Get out of the pool, Croc Master. GET OUT OF THE POOL.
December 13th, 2017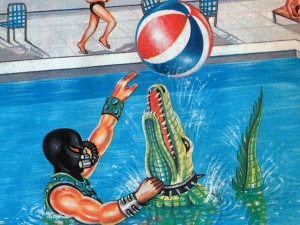 A lot of my nerdery, as I have pointed out in the past, involves writing things on my nerdiest of nerd sites, Technohol 13. I've been working on this thing for over two decades, ostensibly in order to finish up the various projects I'd started in 1995 over there before I die of old age. Or meteors. Or, you know, whatever. And the content there is for use in role-playing games.
So when I'm crafting something over there, the idea is to transform the subject of my research from whatever media it exists in to usable in-game descriptions. And a lot of the time, this is relatively straight-forward, meaning enough of the work has already been done for me that vomiting out a block of statistics, powers, equipment, and back story is easy enough.
But then there's this guy. Croc Master is a villain from the GI Joe toy line, who you can probably guess has a thing for crocodiles. He wears their skin, he meditates in swamps with them, he uses them in a hare-brained business that provides security for eccentric (read: costumed villains) billionaires. He's silly, but he was amusing enough in his few comic book appearances.
But when researching a character like this, and attempting to write something that isn't completely ridiculous, I wind up tripping over art commissioned by the toy company of him playing with his pet croc in a swimming pool, all while everyone around him seems only mildly terrified at the prospect. And then I feel the need to throw my hands up and drink three bottles of rum.
Because come on.